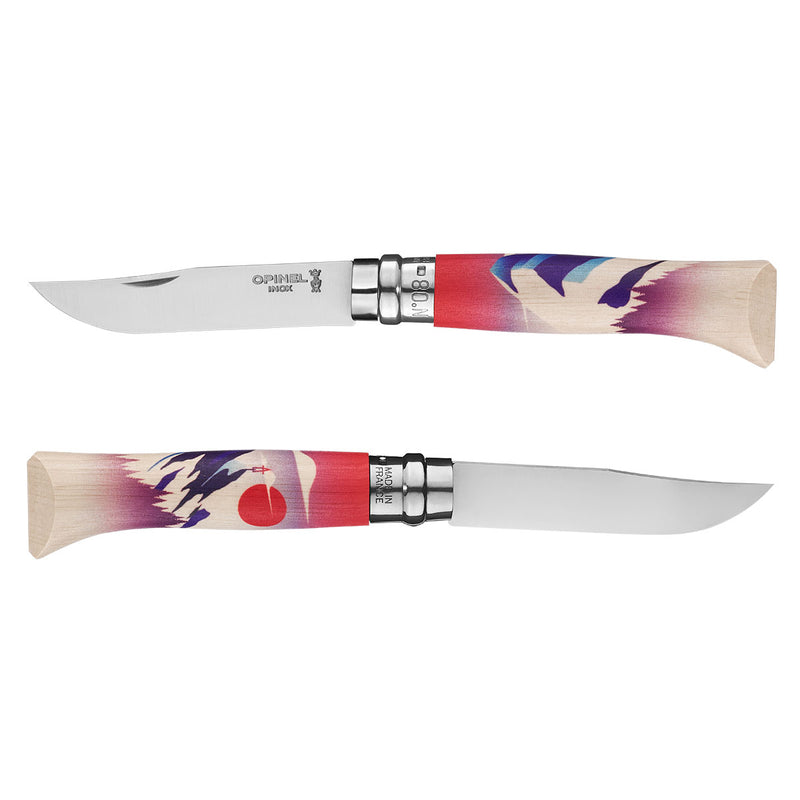 N°08 Limited Edition Escapade - Bivouac / Elevation
For this round of Opinel's limited edition artist series, Opinel has teamed up with Jérémy Groshens -Les Aiguilles de Dje, a 29-year-old French tattoo artist.
Technical specifications
Hardness 55-57 HRC. European origin. The stainless steel used in OPINEL blades is a grade optimized to guarantee both high corrosion resistance and high mechanical performance. The blade offers excellent sharpness and high resistance to abrasion (wear) which allows it to withstand regular contact with hard materials, such as ceramics, before requiring re-sharpening. Stainless steel has the advantage of requiring no special maintenance under ordinary conditions of use, unlike carbon steel. Nevertheless, it can meet its limits when it is put in prolonged contact with an aggressive environment (acid, salt water, detergent ...).
Invented by Marcel Opinel in 1955, the Virobloc safety ring is fitted to all folding knives from the N° 06. Cut out of stainless steel, the Virobloc has two sections, one fixed and one sliding. In addition to locking the blade open (safety in use), it is now possible to lock the blade closed (safety in transport).
Beech is the most commonly used wood for the manufacture of Opinel handles. From France, our beech is hard, durable and easy to work. With a homogeneous appearance, its light color varies from yellow to pink. It is characterized by the presence of numerous small dark dashes.